Hi everyone!
I know this is a bit late since the series has now finished but I thought i'd pop this on anyway. I'm hoping i'm not the only one who is slightly in love with Smell.
Here is my first step by step tutorial.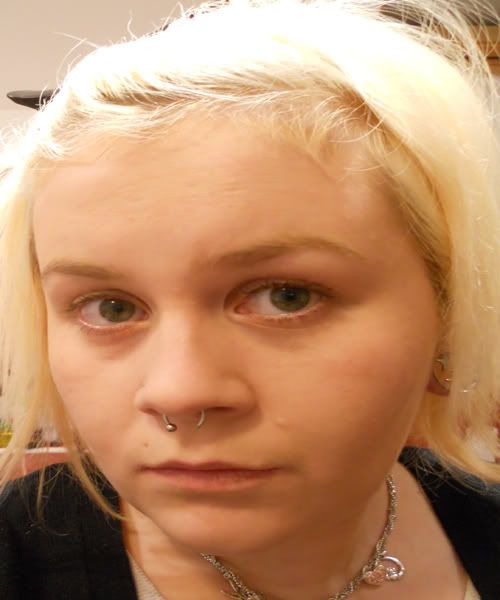 Here I am with just the bare amount of make-up on (eek!), I have used MAC Prep & Prime - Skin Base Visage as a base and Avon's Ideal Foundation in 'Ivory'. I have covered all my face including eyelids.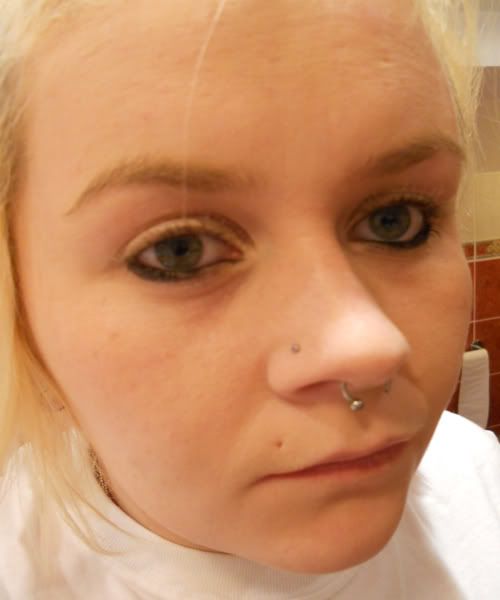 Next I have added a layer of black eyeliner on the inside of the bottom of my lid and a little under the lashline. I used Avon Glimmersticks Eyeliner in 'Blackest Black.'
Next I put a small amount of Urban Decay Eyeshadow Primer Potion on each of my lids as this stuff really makes your eyeshadow stay put and and makes weaker colours more vibrant.
I take my MAC brush (252SF) and pack on my first colour (which is from the MAC Hello Kitty range, Pallette in 'Too Dolly') which is Yoghurt. I apply to the inner corner of my eye until about half way across my lid.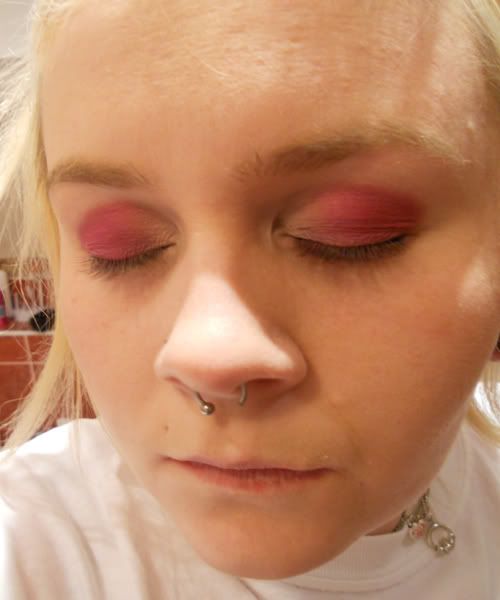 I then fill the rest of my lid with 'Romping' and blend in with the first eyeshadow, you can add more of the lighter colour if you feel you need to (I did)I have re-applied a few more layers of eyeliner.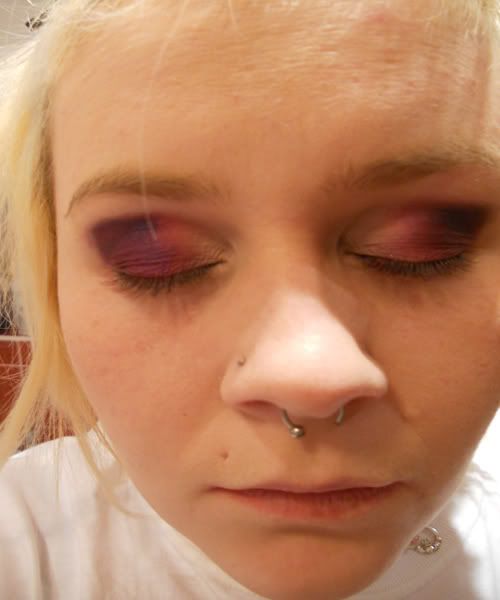 Next I add 'Stately Black' to the top of the outer corner of my eye and blend in to the pink colour. I added a bit more pink then black to get a stronger colour. I slightly push the corners out so that the eyeshadow is has a soft point look.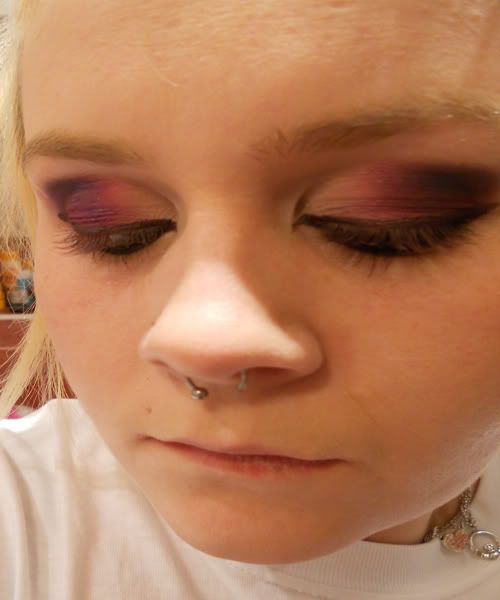 Next I draw a thin to thick flick from the inner corner of my outwards, using MAC Fluidline in 'Macroviolet' using the brush it came with. I then repeat this on the bottom of my eyeliner underneath the lash line, don't worry about going over your previous eyeliner.
I then start on my eyebrows. I take my Avon Glimmersticks Brow Definer in 'Dark Brown' and lightly brush in a shape; i've gone for a thick boxy brow and then fill in with the brow pencil. I follow the shape of my eyebrow but make a higher arch and then bring it back down. Next using a different MAC brush (275SE) I apply a light amount of irredescent eyeshadow, I used Miss Sporty '109 Star' and then I add a thick coat Avon Super Extend Mascara in 'Black'.
Finally I used an angeled blusher brush (for me it was the Avon one)and a dark blusher, Avon's True Colour Blush in 'Russet', and swept in a downward motion down my cheek towards my nose. I did this for both sides.
I then applied a coat of MAC Amplified Creme Lipstick in 'Dark Side'
My hair was backcombed lightly-medium and sprayed into place with Tresemme 'Firm Hold'.
Don't worry if you don't own MAC, you can use any eyeshadow brand in those colours. :)
Now i'm off to stomp around!
Hope you all liked it, Let me know if you need any help!
Sarahx