Hi everyone,
I know I know its a bit late for a christmas tutorial but hey i'll put it up anyway because its pretty!
This a super cute and sparkly look
I primed my face with Avon Smooth Minerals liquid foundation in 'Ivory' and lined my eyes with Avon Glimmersticks Eyeliner in 'Blackest Black'. I then applied a silver but glittery eyeshadow powder (again you can use what brand you fancy) but i used Barry M Dazzle Dust eyeshadow in '4'. I dabbed on a generous amount as its more glittery than pigmented.
I took my pencil eyeliner and drew (from half way on the bottom of my lid) a left diagonal line to about half way up my lid and drew another diagonal line to the right and curved it round the top of my eye (making sure i followed the natural curve of the eye)then i went back the way i came and made a large flick. (If my instructions aren't as clear then use the picture to help you!) i then filled the outline in as seen in the pic.
The eyeshadow should kind of look leaf like.
When you fill in your outline you may think that its not crisp enough so do what i did, i took an eyeshadow brush and dabbed a bit of black eyeshadow over the top of the eyeliner and because the eyeliner is a bit moist it holds the shadow in place.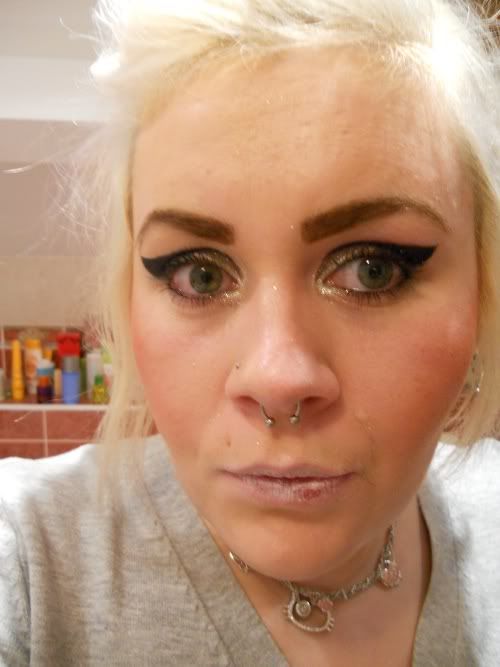 I then made my eyebrows nice and big. I used Avon Glimmersticks Eyebrow Definer in 'Dark Brown'. I applied a light amount of blusher in downward strokes and for my lips i rubbed a bit of irridescent eyeshadow from Miss Sporty which i don't know the name of, yet!!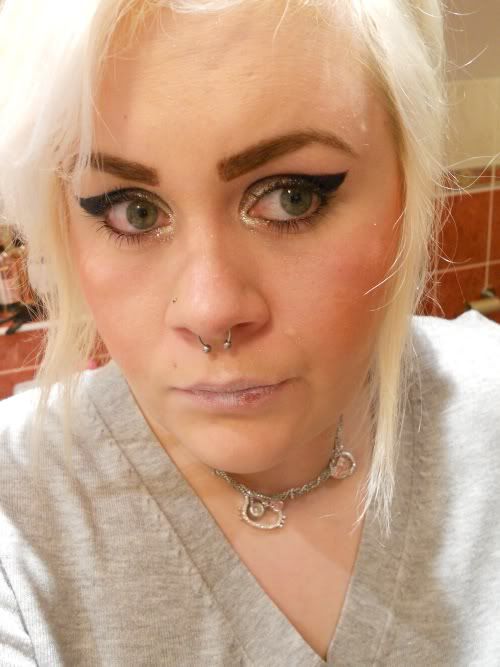 thanks for looking! ^__^